BROTHER THREAD HOLDING PLATE PR600
10 V SHORT BAYONET BULB 15 W

STANDARD PUSH IN SEWING LIGHT BULB.



Out of Stock
111W FEED SCREW
11k START STOP BOARD JANOME MC11000

CIRCUIT BOARD FOR REVERSE AND START STOP BUTTON 11K


13 3/4" SEWING BELT
Out of Stock
13" SEWING BELT
1418 SEWING BELT
1514 SEWING BELT
Out of Stock
1600 Hook Race Unit
1600P BOBBIN WINDER UNIT
2 3/8" BELT PULLEY 1 3/4 FOR COMMERCIAL MOTOR

BELT PULLEY 2 3/8" COMMERCIAL MOTOR 3/4" SHAFT


30V COMMERCIAL SEWING V BELT 30" 3/8" THICKNESS
37" ENDLESS V BELT 3L

V BELT


3x10 Setscrew
41" ENDLESS V BELT INDUSTRIAL MACHINE

V BELT 41 INCH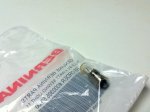 6V 4 WATT BERNINA BULB GENUINE METAL BASE
888 Compulock Lower Knife
ADLER BOBBIN CASE 67-GK373

GK-373 SMALL ADLER BOBBIN CASE TOP WITH TENSION SPRING



Out of Stock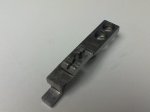 ADLER FEEDER B NEEDLE FT 6MM

FOR ADLER 67


ADLER FEEDER C
ADLER INSIDE STANDARD FLAT WALKING FOOT
ADLER OUTSIDE STANDARD FLAT SEWING FOOT 1/2"
ADLER PLATE 167

THIS IS THE PLATE FOR THE SIZE C FEED DOG, IDEAL FOR UPHOLSTERY


APENDEX HOLDER ASSY
AUTOMATIC THREAD CUTTER UNIT MC9400 JANOME
Out of Stock
BED CUSHION SINGER 700

STANDARD SCREW ON RUBBER FOOT FOR OLDER SINGER MACHINES


Belt for Artistic Quilting Machines
BERNINA CORD CLASSIC 2 PRONG

POWER CORD FOR ALL NEWER BERNINAS 9 FOOT LENGTH


BERNINA #0 new zig zag foot.

Bernina new , zig zag #0 foot.


Bernina #72 Ruler Work Foot.

Bernina #72 Ruler Work Foot


Price

$ 99.99

Quantity:

This item is not available for purchase online. Please call 2706845566 to order.



BERNINA 1630 9MM STITCH PLATE
Bernina 7 Series Jumbo Bobbins 5 pk

Not available for purchase online. For more information please call (270) 684-5566


Bernina 8 Series Jumbo Bobbins 6 pk

Not available for purchase online. For more information please call (270) 684-5566


Bernina 8 Series Needle Threader Head - Gray

Not available for purchase online. For more information please call (270) 684-5566


Bernina 8 Series Needle Threader Head - White

Not available for purchase online. For more information please call (270) 684-5566


Bernina 830 NG Belt
Bernina 830 NG Handwheel Belt
Bernina 830 NG Timing Belt
BERNINA 830 SERVICE DOOR PLASTIC LEFT COVER
Bernina 9mm Rotary Bobbins 6 pk

Not available for purchase online. For more information please call (270) 684-5566